Mini Bio
Britney Jean Spears was born on December 2, 1981, the second child of Lynne Irene and James Parnell Spears.
She is of English heritage through her maternal grandmother, who was born in London, and of distant Maltese descent.
Her siblings are Bryan James and Jamie Lynn-(Zoey 101).
At age three, she started to attend dance lessons in her hometown of Kentwood, Louisiana, and was selected to perform a solo at the annual recital. During her childhood, she also attended gymnastics and voice lessons, and won many state-level competitions and children's talent shows. Spears made her local stage debut at age five, singing "What Child Is This?" at her kindergarten graduation. She said about her ambition as a child, "I was in my own world, [...] I found out what I'm supposed to do at an early age". At age eight, Spears and her mother Lynne traveled to Atlanta for an audition in the 1990s revival of The Mickey Mouse Club. Casting director Matt Cassella rejected her for being too young to join the series at the time, but introduced her to Nancy Carson, a New York City talent agent. Carson was impressed with Spears's vocals and suggested enrolling her at the Professional Performing Arts School; shortly after, Lynne and her daughters moved to a sublet apartment in New York. Spears was hired for her first professional role, as the understudy for the lead role of Tina Denmark in the Off-Broadway musical Ruthless!. She also appeared as a contestant on the popular television show Star Search, as well as being cast in a number of commercials. In December 1992, she was finally cast in The Mickey Mouse Club, but returned to Kentwood after the show was cancelled. She enrolled at Parklane Academy in nearby McComb, Mississippi. Although she made friends with most of her classmates, she compared the school to "the opening scene in Clueless with all the cliques. [...] I was so bored. I was the point guard on the basketball team. I had my boyfriend, and I went to homecoming and Christmas formal. But I wanted more."
In June 1997, Spears was in talks with manager Lou Pearlman to join female pop group Innosense. Lynne asked family friend and entertainment lawyer Larry Rudolph for his opinion and submitted a tape of Spears singing over a Whitney Houston karaoke song along with some pictures. Rudolph decided he wanted to pitch her to record labels, therefore she needed a professional demo. He sent Spears an unused song from Toni Braxton; she rehearsed for a week and recorded her vocals in a studio with a sound engineer. Spears travelled to New York with the demo and met with executives from four labels, returning to Kentwood the same day. Three of the labels rejected her, arguing audiences wanted pop bands such as The Backstreet Boys and The Spice Girls, and "there wasn't going to be another Madonna, another Debbie Gibson, or another Tiffany." Two weeks later, executives from Jive Records returned calls to Rudolph. Senior vice president of A&R Jeff Fenster stated about Spears's audition that "It's very rare to hear someone that age who can deliver emotional content and commercial appeal. [...] For any artist, the motivation—the 'eye of the tiger'— is extremely important. And Britney had that." They appointed her to work with producer Eric Foster White for a month, who reportedly shaped her voice from "lower and less poppy" delivery to "distinctively, unmistakably Britney." After hearing the recorded material, president Clive Calder ordered a full album. Spears had originally envisioned "Sheryl Crow music, but younger more adult contemporary" but felt alright with her label's appointment of producers, since "It made more sense to go pop, because I can dance to it—it's more me." She flew to Cheiron Studios in Stockholm, Sweden, where half of the album was recorded from March to April 1998, with producers Max Martin, Denniz PoP and Rami, among others.
Legacy
Spears became an international pop culture icon immediately after launching her recording career. Rolling Stone magazine wrote: "One of the most controversial and successful female vocalists of the 21st century," she "spearheaded the rise of post-millennial teen pop ... Spears early on cultivated a mixture of innocence and experience that broke the bank".[154] She is listed by the Guinness World Records as having the "Best-selling album by a teenage solo artist" for her debut album ...Baby One More Time which sold over thirteen million copies in the United States.[155] Melissa Ruggieri of the Richmond Times-Dispatch reported, "She's also marked for being the best-selling teenage artist. Before she turned 20 in 2001, Spears sold more than 37 million albums worldwide".
Barbara Ellen of The Observer has reported: "Spears is famously one of the 'oldest' teenagers pop has ever produced, almost middle aged in terms of focus and determination. Many 19-year-olds haven't even started working by that age, whereas Britney, a former Mouseketeer, was that most unusual and volatile of American phenomena — a child with a full-time career. While other little girls were putting posters on their walls, Britney was wanting to be the poster on the wall. Whereas other children develop at their own pace, Britney was developing at a pace set by the ferociously competitive American entertainment industry". 'Britney Spears' has been Yahoo!'s most popular search term for the last four consecutive years, seven times in total. Spears was named as Most Searched Person in the Guinness World Records book edition 2007 and 2009. Spears has also become a major influence among many new artists, including Kristinia DeBarge, Lady Gaga, Little Boots, Selena Gomez & The Scene, Pixie Lott and Miley Cyrus who has cited Spears as one of her biggest inspirations and has also referenced Spears in her hit song "Party in the U.S.A.".
Bebo Norman wrote a song about Spears, called "Britney", which was released as a single. Boy band Busted also wrote a song about Spears called "Britney", which was on their debut album. She is also mentioned in P!nk's song "Don't Let Me Get Me". Richard Cheese called Britney Spears "a remarkable recording artist" and also went on to say that she was "versatile" and what the industry calls an "artist". People magazine and MTV reported that October 1, 2008, the Bronx's John Philip Sousa Middle School, named their music studio in honor of Britney Spears.Spears herself was present during the ceremony and donated $10,000 to the school's music program.
Career Highlights
She has earned 292 nominations in her illustrious twelve year career & won 182 of them.
She is also one of the most awarded artists of all time.
She starred in the movie Crossroads as Lucy Wagner
Most critics actually praised Spears's acting.
she also released her first book in 2000, Britney Spears' Heart-to-Heart, co-written with her mother.
In June 2002, Spears opened her first restaurant, Nyla, in New York City, but terminated her relationship in November, citing mismanagement and "management's failure to keep her fully apprised".
On February 2001, Spears got a promotional deal for $7–8 million dollars with Pepsi, and released another book co-written with her mother, entitled A Mother's Gift.
Singles
"...Baby One More Time"-October 23, 1998
"Sometimes"-April 30, 1999
"(You Drive Me) Crazy"-August 23, 1999
"Born to Make You Happy"-November 27, 1999
"From the Bottom of My Broken Heart"-December 15, 1999
"Oops!...I Did It Again"-March 27, 2000
"Lucky"-July 7, 2000
"Stronger"-November 13, 2000
"Don't Let Me Be the Last to Know"-March 26, 2001
"I'm a Slave 4 U"-September 24, 2001
"Overprotected"-December 23, 2001
"I'm Not a Girl, Not Yet a Woman"-February 5, 2002
"Anticipating"-May 21, 2002 (France only)
"I Love Rock 'n' Roll"-June 1, 2002
"Boys"-July 29, 2002
"That's Where You Take Me"-2003 (Philippines only)
"Me Against the Music"-October 20, 2003
"Toxic"-January 12, 2004
"Everytime"-May 17, 2004
"Outrageous"-July 13, 2004
"Breathe on Me"-2004 (promo)
"Gimme More"-September 25, 2007
"Piece of Me"-November 27, 2007
"Break the Ice"-March 3, 2008
"Radar"-June 21, 2008 (promo)
"Womanizer"-September 29, 2008
"Circus"-December 2, 2008
"If U Seek Amy"-March 10, 2009
"Radar"-July 22, 2009
"3" 2009
"Hold it against me" 2011
Fun Facts
In June 2010, Spears was ranked sixth on Forbes list of the 100 Most Powerful and Influential celebrities in the world; she is also ranked as the third most powerful musician in the world.
According to the Recording Industry Association of America (RIAA), she is the eighth top-selling female artist in the United States, with 32 million certified albums.
Spears is also recognized as the best-selling female artist of the first decade of the 21st century, as well as the fifth overall.She was ranked the 8th Artist of the 2000–10 decade by Billboard.
In 1999, she performed her song, "Drive Me Crazy", on "Sabrina, The Teenage Witch".
Before the shaving head episode, Britney's aunt Sandra Bridges Covington, died of ovarian cancer, this was January 21, 2007. She is said to have been very close to her aunt.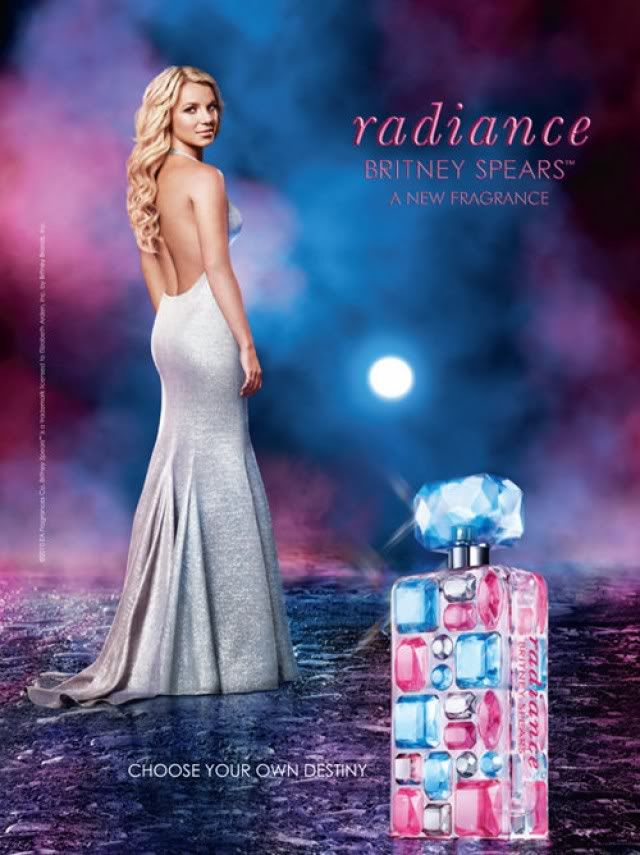 Perfume Empire
Britney competed against other celebrities such as Céline Dion, Jennifer Lopez, P. Diddy, Paris Hilton, and Hilary Duff and succeeded in becoming the number 1 celebrity perfume endorser of all-time with global sales of 1 billion and gross revenue of US$2 billion.
To date Spears has grossed over US$1.5 billion from perfume sales across the globe selling an astonishing 1 billion bottles in 5 years.
Curious-September 2004
Number one fragrance of 2004
Honored Best Woman's Fragrance in 2005
Tagline: "Do you dare?"
Fantasy-September 15, 2005
Tagline: "Everybody has one."
Curious In Control-April 16, 2006
Tagline: "Are you?"
Midnight Fantasy-December 2006
Tagline: "Magic Begins at Midnight."
Believe-September 24, 2007
Tagline: "The greatest freedom is to believe in yourself."
Curious Heart-January 2008
Tagline: "Live yours to the fullest."
Hidden Fantasy-January 2009
Tagline: "What do you have to hide?"
Circus Fantasy-September 2009
Tagline: "Do you make it hot?"
Radiance-September 2010
Tagline: "Choose your own destiny
Future Projects
The lead single "Hold It Against Me" was released on January 11, 2011.
She will be releasing her 7Th album in mid 2011.
A music video for "Hold It Against Me" is set to be filmed in the third week of January 2011, with Brian Friedman as the choreographer.Open auditions were held on December 22, 2010, and the dancers had to learn a routine set to Robyn's "Criminal Intent" (2010).
Fun Stuff
Britney Spears Dress up
Radiance Perfume Sample
Her first music video
Her last music video
Britney Spears's website
Comments are always accepeted!!!